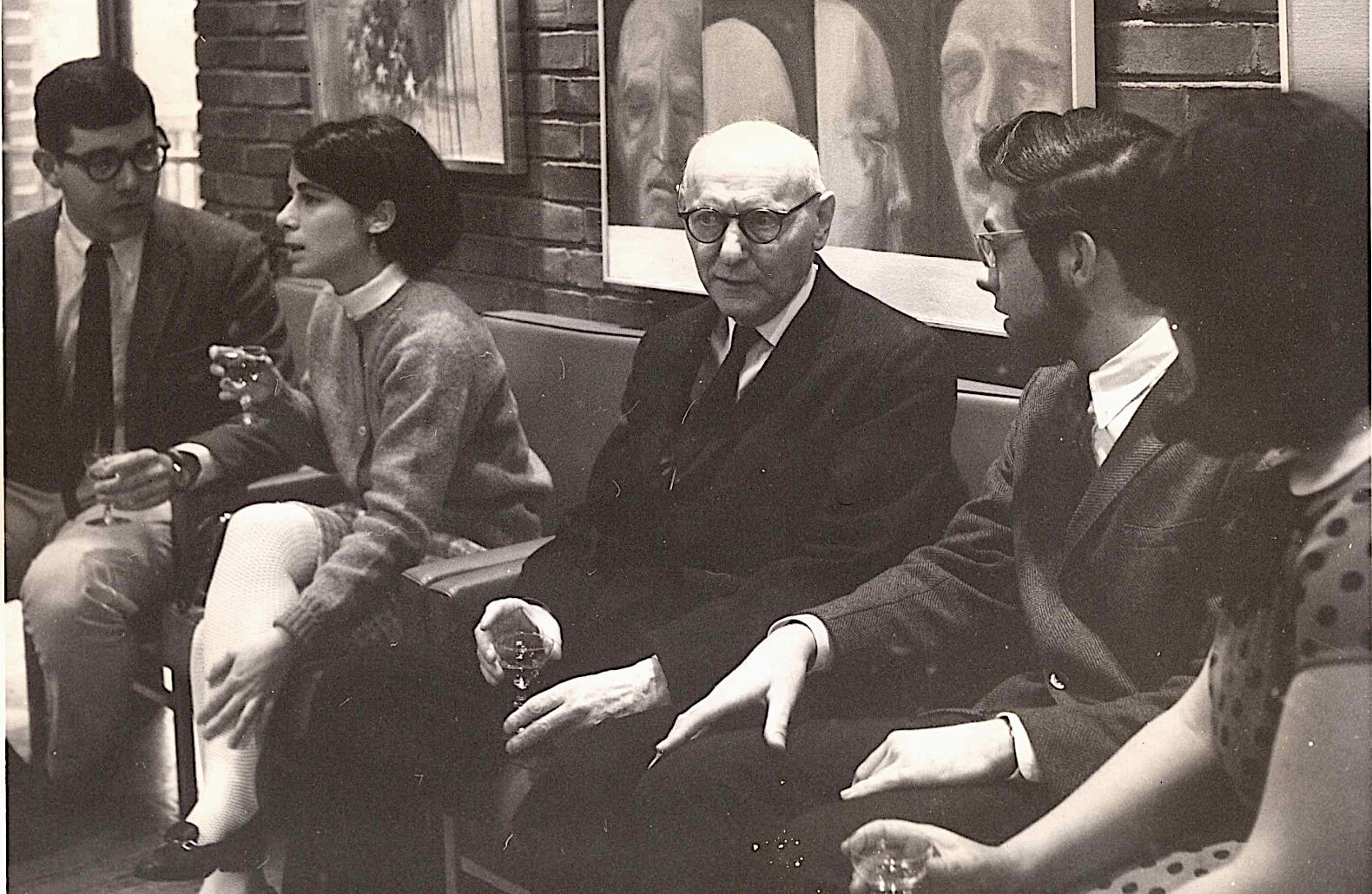 די פֿאַרגאַנגענע וואָך האָט זיך באַוויזן אַ נײַער דיגיטאַלישער אַרכיװ, "כּל־בו ייִדיש: דעם לערער ראָסקעסעס אַרכיװ". דוד ראָסקעס, װאָס האָט אױפֿגעהאָדעװעט עטלעכע דורות ייִדישע פֿאָרשער, מײַן קלײניקײט בתוכם, האָט געזאַמלט די דאָזיקע מאַטעריאַלן אין משך פֿון אַ האַלב־יאָרהונדערט. זײַנע לעקציעס זײַנען תּמיד געװען פּערפֿעקט צוגעגרײט און פֿאָרגעטראָגן; אַלע לעקטור־מאַטעריאַלן זײַנען געווען פּינקטלעך פֿאָטאָקאָפּירט און צײַטיק צעטײלט.
בײַ מיר, און איך האַלט אַז בײַ אַנדערע תּלמידים זײַנע אױך, האָבן די דאָזיקע לעקציעס געדינט װי אַ מעטאָדישער מוסטער פֿאַן לערנען ייִדישע ליטעראַטור און װי אַ װיכטיקער יסוד פֿאַר װײַטערדיקע פֿאָרשונגען. אַחוץ די לערן־מאַטעריאַל פֿאַרן אַרומנעמיקן קורס פֿון דער מאָדערנער ייִדישער ליטעראַטור, איז דער אַרכיװ כּולל אָריגינעלע מקורים, קריטישע און היסטאָרישע פֿאָרשונגען, מעטאָדישע מאַטעריאַלן פֿאַרן לערנען, װי אױך פֿאָטאָגראַפֿיעס, בריװ און כּלערלײ שאָר־ירקות. דער אַרכיװ איז פּונקט אַזױ גוט אָרגאַניזירט און אױסגעסדרט אױף דער אינטערנעץ װי ראָסקעסעס לערן־מאַטעריאַלן.
להיפּוך צו די שפּראַכן, װאָס האָבן אײגענע מלוכות, פֿאַרמאָגט ייִדיש ניט קײן צענטראַלן אַרכיװ. אַנשטאָט דעם האָבן מיר אַ נעצװערק פֿון זאַמלונגען, װאָס זײַנען געשאַפֿן געװאָרן און װערן געשטיצט דורך פּריװאַטע אַנשטאַלטן און יחידים. עס איז ניט קײן גוזמא צו זאָגן, אַז אָן אַזעלכע דיגיטאַלישע זאַמלונגען, װי למשל דער אַרכיװ פֿון דער ייִדישער ביכער־צענטראַלע, װאָלטן ייִדיש־שטודיעס ניט געקענט װײַטער עקזיסטירן.
איצט איז צו די דאָזיקע דיגיטאַלישע רעסורסן צוגעקומען ראָסקעסעס זאַמלונג. אַ בוך האָט כּסדר אײן סיפּור-המעשׂה, אָבער אַן אַרכיװ קאָן דערצײלן פֿאַרשײדענע געשיכטעס. דער עיקר־ציל פֿון ראָסקעסעס אַרכיװ איז צו העלפֿן די פֿאָרשער און לערער פֿון ייִדיש געפֿינען פּאַסיקע מאַטעריאַלן, װעלכע מען קאָן אַראָפּלאָדן און נוצן פֿאַר דער אײגענער אַרבעט. די דאָזיקע מאַטעריאַלן דערצײלן די געשיכטע פֿון די אַקאַדעמישע ייִדיש־לימודים פֿאַרן פֿאַרגאַנגענעם האַלב־יאָרהונדערט. ראָסקעס שטײט אױף די פּלײצעס פֿון זײַנע לערער, די גדולים פֿונעם פֿריִערדיקן דור, חנא שמערוק, דבֿ סדן, מאַקס און אוריאל װײַנרײַך. זײערע פֿאָרשונגען זײַנען תּמיד געװען אַ טײל פֿון זײַן לערנען, און דאָ געפֿינט מען זײ אין אײנעם אינעם אַרכיװ.
מיט פֿופֿציק יאָר צוריק זײַנען די הײַנטיקע גדולים אָבער ניט געװען ניחא בײַ די עלטערע ייִדישע ליטעראַטן אין ניו־יאָרק. דער רעפֿעראַט "הױפּט־שטראָמען פֿון דער הײַנטיקער ליטעראַטור־פֿאָרשונג", װאָס ראָסקעס האָט געהאַלטן אין ייִװאָ אין 1977, האָט אַרױסגערופֿן שאַרפֿע פּראָטעסטן מצד אײניקע עלטערע ייִדישע ליטעראַטן (דער רעפֿעראַט איז פֿאַרעפֿנטלעכט געװאָרן אינעם תּל־אָבֿיבֿער זשורנאַל "די גאָלדענע קײט" און אַ קאָפּיע איז אױך בנימצא אינעם אַרכיװ). דער "אַלגעמײנער זשורנאַל" האָט װעגן דעם געדרוקט אַ רעפּאָרטאַזש מיטן קעפּל "מעטאַלענע האַרץ פֿון מיקראָפֿאָן האָט געפּלאַצט בעת פּאָלעמיק צװישן שרײַבער װעגן ייִװאָ". דער רעפּאָרטאַזש האָט ציטירט דעם שרײַבער שמשון אַפּטער׃ "דוד ראָסקעס שרײַבט אין אַ גוטן ייִדיש, אָבער זײַנע קאָנצעפּציעס זײַנען פֿאַלש".
ד״ר אליהו שולמאַן האָט שפּעטער דערקלערט׃ "װעגן ראָסקעסן װיל איך זאָגן אַז ער איז אַן ערנסטער און ערלעכער יונגער־מאַן, נאָר ער לאָזט זיך פֿאַרפֿירן פֿון די ישׂראלדיקע פֿאָרשערס", צװישן זײ — דן מירון, שמערוק און סדן. און אַפּטער האָט פֿאַרסך־הכּלט אין אַן אַנדערן אַרטיקל: "אױב די יונגע ייִדישע ליטעראַטור־פֿאָרשער מײנען באמת עפּעס צושטײַער געבן דער ייִדישער פֿאָרש־ליטעראַטור, קענען זײ זיך נישט סומך זײַן בלױז אױף די פֿאָרשער און ליטעראַטור־קריטיקער, װאָס זעען די ייִדישע ליטעראַטור, ייִדיש לשון, אין אַ פֿאַרגליװערטן אָדער אונטערגײענדיקן מעמד." הײַנט זעט מען, װי אומבאַקלערט זײַנען יענע עלטערע קריטיקער דעמאָלט געװען. דער עלטערער דור ייִדישע ליטעראַטן, װאָס זײַנען אױפֿגעהאָדעװעט געװאָרן נאָך אין דער אַלטער הײם, האָט פּשוט ניט געװאָלט אָנערקענען, אַז דער נײַער אַמעריקאַנער דור האָט אַן אַנדער קוק אױף קולטור.
װען מען טראַכט װעגן אַ טראַדיציע, צו װעלכער ראָסקעס געהערט, קומט אױפֿן שׂכל טאַקע װילנע און ניט ישׂראל. זײַן דיסערטאַציע איז געװידמעט דעם באַרימטן װילנער מחבר פֿונעם נײַנצנטן יאָרהונדערט — אײַזיק מאיר דיק. יעדער אײנער, װאָס האָט אַן אינטערעס צו דער דאָזיקער מעקװירדיקער פֿיגור װעט במילא מוזן אָנהײבן פֿון ראָסקעסעס "כּל־בו־אַרכיװ". װילנע איז אױך געװען אַ שטאָט, װווּ די ייִדישע אינטעליגענץ האָט גענומען אױף זיך די אױפֿגאַבע צו זאַמלען און אָפּצוהיטן דאָקומענטאַלע גבֿיות־עדותן װעגן היסטאָרישע געשעענישן. אין ראָסקעסעס אַרכיװ געפֿינט זיך יצחק-לײבוש פּרצעס "אױפֿרוף" צו ייִדן צו "באַהאַלטן פֿאַר דער נאָענסטער און װײַטסטער צוקונפֿט יעדן צײכן װאָס דער היסטאָרישער פּראָצעס קריצט אױס אױף אונדזער פֿאָלק." דער דאָזיקער אױפֿרוף איז אַרױס אין װאַרשע בעת דער ערשטער װעלט־מלחמה, אָבער מקוים איז ער געװאָרן דװקא אין װילנע, װוּ די ייִדישע אינטעליגענץ האָט אָנגעהױבן די סיסטעמאַטישע אַרבעט פֿון אָנזאַמלען און דרוקן היסטאָרישע מאַטעריאַלן װעגן דעם נאָענטן עבֿר.
אַ היפּשער טײל פֿון ראָסקעסעס פֿאָרשונג איז טאַקע געװידמעט אָט דעם ייִדישן היסטאָרישן זכּרון, בפֿרט די ליטעראַרישע אָפּשפּיגלונגען פֿון די חורבנות פֿונעם צװאַנציקסטן יאָרהונדערט. אַװדאי איז אונדזער תּקופֿה ניט צו פֿאַרגלײַכן מיט יענע ביטערע צײַטן, אָבער זי האָט אױך געהאַט דראַמאַטישע מאָמענטן. אײן אַזאַ מאָמענט, דער אײַנבראָך פֿונעם סאָװעטן־פֿאַרבאַנד, האָט גורם געװען דעם אױפֿלעב פֿון דער ייִדישער קולטור און װיסנשאַפֿט אין רוסלאַנד און אוקראַיִנע במשך פֿון די לעצטע דרײַסיק יאָר. ראָסקעס האָט זיך אַקטיװ באַטײליקט אינעם דאָזיקן פּראָצעס און אַ היסטאָריקער פֿון אונדזער צײַט װעט געפֿינען אין זײַן אַרכיװ גאָר אינטערסאַנטע דאָקומענטן.
יעדער דור אין דער מאָדערנער ייִדישער געשיכטע לעבט איבער אַן איבערגאַנג־תּקופֿה. ראָסקעס איז גוט געװױר פֿון דער פֿליסיקײט פֿון צײַט. זײַן אַרכיװ איז אַ גליד אין דער גאָלדענער קײט צװישן דעם דור ייִדישיסטן װי שולמאַן און אַפּטער, װאָס האָבן זיך געהאַלטן פֿאַר די שומרים פֿון דער עכטער ייִדיש־קולטור, און דעם הײַנטיקן יונגן דור, װאָס האָט זיך אױסגעלערנט ייִדיש װי אַן אַקאַדעמישער פֿאַך.
The post The personal archive of Yiddish literature scholar David Roskies is now online appeared first on The Forward.