Embedded in Sara Taksler's affecting documentary, How Saba Kept Singing, is a sense of wonder and mystery. Premiering on PBS April 18, in honor of Holocaust Remembrance Day, the film portrays the power of human relationships, resilience and creativity against the backdrop of concentration camp horrors. It's a complex, well-told tale about both connection and missed connections, love and the limits of love.
"Saba" is David S. Wisnia, a Polish Jewish musical prodigy whose parents and younger brother were murdered by the Nazis in the Warsaw Ghetto. Wisnia, working outside the ghetto during that massacre, was deported at age 16 to Auschwitz-Birkenau, where his singing talents secured him a relatively privileged existence. "When I got into the camp," he says in the film, "that's what saved my life."
The first, perhaps impenetrable mystery raised by this story is the weird coexistence of SS sadism and antisemitism with music appreciation. A second — one the film does eventually resolve — is the role of another Jewish musical prodigy, Helen Spitzer, known as "Zippi," in Wisnia's survival.
A graphic designer, as well as mandolin player, from Slovakia, Zippi was an even more privileged inmate, able to make occasional visits to the men's camp. There she and Wisnia, eight years her junior, became surreptitious lovers. "She taught me everything," he later recalls. Together they devised a plan to meet after the war in front of Warsaw's Jewish Community Center.
How Saba Kept Singing — which enjoyed an emotional Philadelphia premiere April 13 at the Weitzman National Museum of American Jewish History — interweaves Wisnia's wartime travails with scenes from his postwar life in suburban Levittown, Pennsylvania. (The nearly 80-minute film, whose executive producers include Hillary Rodham Clinton and Chelsea Clinton, has been trimmed to an hour for television and streaming.)
After escaping from a death march, Wisnia became an interpreter for U.S. troops, helped raid Hitler's deserted Berchtesgaden bunker, and killed an SS man. Eager to forget his past, he emigrated to New York City, where two maternal aunts lived. "I wanted nothing to do with Europe," he says. That meant jettisoning both his East European accent and his promise to rendezvous with Zippi.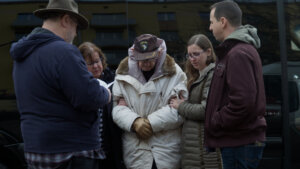 Wisnia leads a Hebrew prayer on a Warsaw street where his family was murdered. Photo by PBS
Instead, he married a woman aptly named Hope, with whom he had four children. He fulfilled his musical vocation by becoming a cantor. In more recent years, he began telling his Holocaust story and performing concerts with one of his grandsons, Avi Wisnia. Their powerful familial and musical bond is one of the documentary's throughlines. (At the local premiere, Avi sang — beautifully — two songs, including his translation of his grandfather's bitter ode to the camp, "Oświȩcim," the Polish name for Auschwitz.)
Connecting the past and Wisnia's American life are visits that Avi and Saba (who died in 2021, at 94) paid to Auschwitz for the 70th and 75th anniversaries of the camp's liberation. Wisnia, confined to a wheelchair, is noticeably frailer on the second visit. But he still is able to sing with great gusto, to Avi's piano accompaniment, before an appreciative Warsaw audience.
On first viewing, the film's nonlinear chronology can be confusing. Wisnia's ghostwritten 2015 memoir, One Voice, Two Lives: From Auschwitz Prisoner to 101st Airborne Trooper, fills in details of his Auschwitz experiences and makes clear that others, besides Zippi, contributed to his survival. It also suggests that Wisnia always was aware, or at least suspected, that Zippi helped keep him off potentially fatal transports to other camps.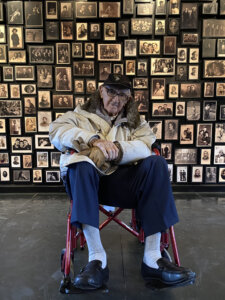 Wisnia at the Auschwitz-Birkenau State Museum in Poland. Photo by PBS
For the most part, Taksler, a longtime family friend, constructs her cinematic narrative smartly, concisely, and with considerable affection. Wisnia, according to his rabbi son Eric, was an "effervescent" character whose Holocaust ordeal never erased his capacity for joy. The film's opening sequence, in which Wisnia instructs Avi just how to comb his thinning hair, suggests the strength of his personality, as well as some residual vanity.
The director uses restrained, occasional fanciful animation to reconstruct segments of Wisnia's life in Auschwitz. In a Q&A after the Philadelphia screening, Taksler said that the animated scenes represented acts of defiance, including singing or finding human connection. "Sometimes it's an act of defiance to live," she added.
Taksler juxtaposes Wisnia's story with excerpts from Zippi's own clear-eyed Holocaust testimony, which revealed that she was subjected to gynecological experiments that impaired her fertility. After the war, she married, immigrated to the United States, and led a long, productive life that included various humanitarian ventures.
The tale of Saba and Zippi's missed connections evokes the 1957 Hollywood romance, An Affair to Remember (itself a remake of a 1930s film). It also calls to mind another Auschwitz documentary, Maya Sarfaty's disquieting 2020 film Love It Was Not, about the uncategorizable relationship between a musically gifted Jewish prisoner and a besotted SS guard who protected her and her intimates.
In the case of Saba and Zippi, the love seems to have been genuine. But it was short-circuited by postwar chaos and trauma. Each looked for the other, but not at the same time. Nor was fate particularly kind: Both passed through Germany's Feldafing displaced persons camp, but never crossed paths.
During the Philadelphia Q&A, Avi expanded on the romance's dissolution. "It was never the right time for both of them to reunite," he said. "In order to keep on living, they had to move forward. And for my grandfather, that was leaving Europe behind as soon as he had a chance. And for Zippi, it was staying with her husband and not seeing my grandfather the first time he reached out."
The two did manage, satisfyingly, a late-life reunion, undertaken with the blessing of Wisnia's wife of more than six decades. Taksler said she wasn't there to film it. But an audio recording, a video image of clasped hands, and a photograph of the couple convey the warmth and meaning of that bittersweet encounter, bringing the film and the story full circle.
The post How a gift for music saved one man from the Nazis appeared first on The Forward.