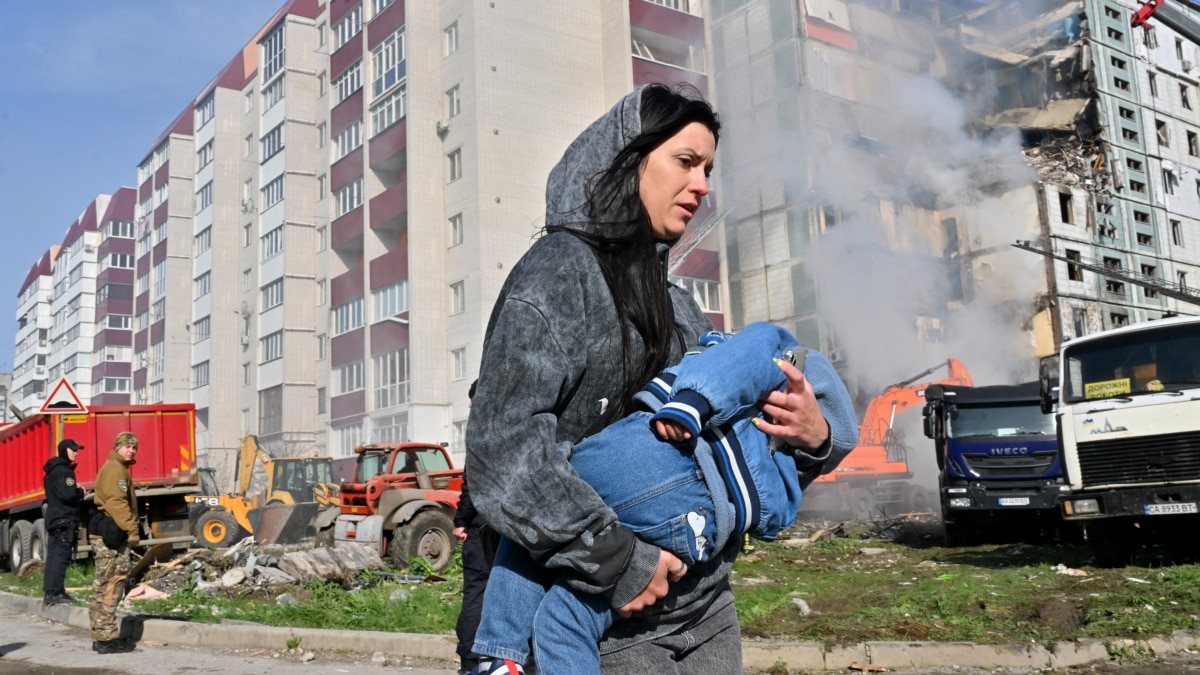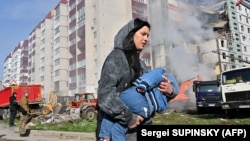 A woman carries a child past damaged residential buildings in Uman, Cherkasy region, on April 28 after Russian missile strikes targeted several Ukrainian cities overnight.
At least 17 people, including several children, were killed in a wave of Russia strikes on Ukrainian cities, including the capital, Kyiv, early on April 28, in what President Volodymyr Zelenskiy condemned as "a night of Russian terror" as heavy fighting continued in the devastated eastern city of Bakhmut.
At least 15 people were killed by a Russian strike in Uman, a city in central Ukraine's Cherkasy region, when a missile hit a nine-story apartment building, Interior Minister Ihor Klymenko reported.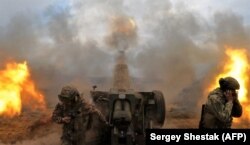 RFE/RL's Live Briefing gives you all of the latest developments on Russia's full-scale invasion, Kyiv's counteroffensives, Western military aid, global reaction, and the plight of civilians. For all of RFE/RL's coverage of the war, click here.
The toll was likely to go up as search and rescue operations were ongoing, Klymenko said.
Ihor Taburets, the head of the Cherkasy regional military administration, said three children, including two 10-year-olds, were among the dead.
The Uman City Council announced a three-day mourning period, and prosecutors have opened a war-crimes investigation into the strike, authorities said.
"Another night of Russian terror. Missiles and UAVs," Zelenskiy wrote on Twitter. "Russian evil can be stopped by weapons — our defenders are doing it. And it can be stopped by sanctions — global sanctions must be enhanced."
In Dnipro, a large city on the Dnieper River in central Ukraine, a woman and a toddler were killed in the Russian attack, despite the Ukrainian air defense managing to shoot down seven missiles, said Serhiy Lysak, head of the Dnipropetrovsk region's military administration.
"A private home was destroyed in Dnipro. A 2-year-old girl and a 31-year-old woman were killed. Three people were wounded," Lysak said.
IN PHOTOS: Russia launched more than 20 cruise missiles and two drones toward Kyiv and other Ukrainian cities in a deadly attack on April 28.
Photo Gallery:
The attack also caused extensive damage to the building of a private company where a fire broke out, he said.
The Ukrainian air defense shot down most of the missiles that targeted Kyiv, said Serhiy Popko, head of Ukraine's capital military administration.
"According to preliminary data, 11 cruise missiles were destroyed in the airspace of Kyiv. In addition, two drones were shot down," Popko added.
A power line was cut and civilian infrastructure as damaged as well.
A child was injured by falling debris in a settlement in the Kyiv region, local authorities said.
WATCH: Often under Russian fire, Ukrainian medics near Bakhmut try to stabilize wounded soldiers so they can be transported to hospitals in safer areas.
Blasts were also reported overnight in Kremenchuk and Poltava in central Ukraine and in Mykolayiv in the south.
Ukraine's Air Force Command later reported that the multipronged attack on Ukrainian cities was executed from strategic Tu-195 Russian aircraft coming from the Caspian Sea region.
The command said Ukrainian air defense destroyed 21 out of 23 cruise missiles and two drones in central, eastern, and southern Ukraine.
In Moscow, Russia's Defense Ministry claimed its strategic bombers had targeted Ukrainian Army reserve units with high-precision strikes overnight to prevent them from reaching the front line.
"Russia's Air Force carried out a collective missile strike using long-range high-precision weapons overnight targeting temporary deployment sites of Ukrainian army reserve units," ministry spokesman Igor Konashenkov said at a news briefing.
Since the beginning of its full-scale invasion of Ukraine, Russia has denied targeting civilians, despite the abundant evidence to the contrary.
Shortly after the air strikes on Kyiv region, the presidents of the Czech Republic and Slovakia, Petr Pavel and Zuzana Caputova, arrived in the Ukrainian capital.
"Together with [Slovak President] Zuzana Caputova, we see the value of freedom and justice. It is hard to see with your own eyes how Ukrainians are paying the highest price for it. With the blood and lives of their own citizens. In the fight against the aggressor, they defend what we have in common. That is why we will back them," Pavel tweeted from Kyiv.
Meanwhile, heavy fighting continued unabated on the Bakhmut-Adviyivka-Maryinka front line in the eastern Ukrainian region of Donetsk, the General Staff of Ukraine's Armed Forces said in its daily update on April 28.
During the past 24 hours, Russian forces carried out more than 65 attacks, but all were repelled by Ukrainian defenders, the military said. Bakhmut and Maryinka remain at the epicenter of hostilities, it said.
With reporting by AP and Reuters